<![CDATA[
Z-score LORETA Neurofeedback as a Potential Therapy for Patients with Seizures and Refractory Epilepsy
Journal of Neurology and Neurobiology Published: January 31st, 2015
Click image to read full case study.
J. Lucas Koberda*, Lauren C. Frey2
1 Director of Tallahassee NeuroBalance Center, Tallahassee, FL 32309, USA 2 Associate Professor at Epilepsy Center of University of Colorado, Aurora, CO, USA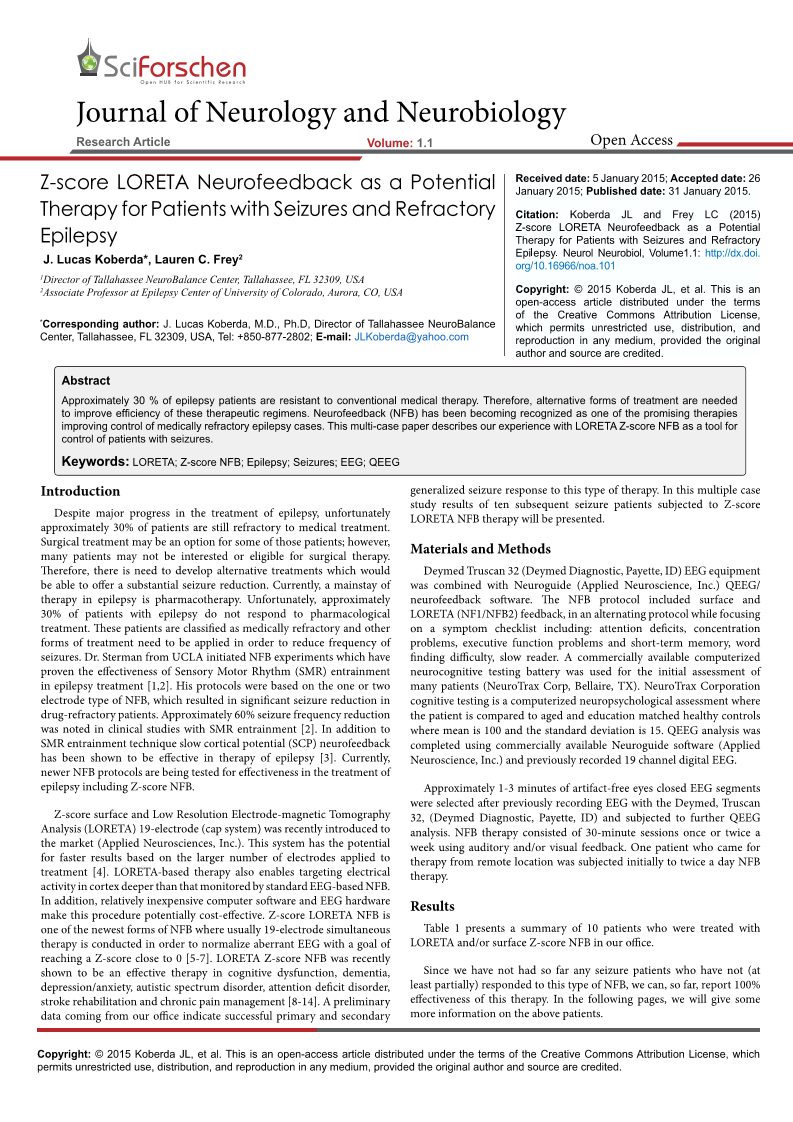 Received date:
5 January 2015;
Accepted date:
26 January 2015; Published date: 31 January 2015.
Citation:
Koberda JL and Frey LC (2015) Z-score LORETA Neurofeedback as a Potential Therapy for Patients with Seizures and Refractory Epilepsy. Neurol Neurobiol, Volume1.1: http://dx.doi.org/10.16966/noa.101
Copyright:
© 2015 Koberda JL, et al. This is an open-access article distributed under the terms of the Creative Commons Attribution License, which permits unrestricted use, distribution, and reproduction in any medium, provided the original author and source are credited.
*Corresponding author:
J. Lucas Koberda, M.D., Ph.D, Director of Tallahassee NeuroBalance Center, Tallahassee, FL 32309, USA, Tel: +850-877-2802; E-mail: JLKoberda@yahoo.com
Abstract
Approximately 30 % of epilepsy patients are resistant to conventional medical therapy. Therefore, alternative forms of treatment are needed to improve efficiency of these therapeutic regimens. Neurofeedback (NFB) has been becoming recognized as one of the promising therapies improving control of medically refractory epilepsy cases. This multi-case paper describes our experience with LORETA Z-score NFB as a tool for control of patients with seizures.
Introduction
Despite major progress in the treatment of epilepsy, unfortunately approximately 30% of patients are still refractory to medical treatment. Surgical treatment may be an option for some of those patients; however, many patients may not be interested or eligible for surgical therapy. Therefore, there is need to develop alternative treatments which would be able to offer a substantial seizure reduction. Currently, a mainstay of therapy in epilepsy is pharmacotherapy. Unfortunately, approximately 30% of patients with epilepsy do not respond to pharmacological treatment. These patients are classified as medically refractory and other forms of treatment need to be applied in order to reduce frequency of seizures. Dr. Sterman from UCLA initiated NFB experiments which have proven the effectiveness of Sensory Motor Rhythm (SMR) entrainment in epilepsy treatment [1,2]. His protocols were based on the one or two electrode type of NFB, which resulted in significant seizure reduction in drug-refractory patients. Approximately 60% seizure frequency reduction was noted in clinical studies with SMR entrainment [2]. In addition to SMR entrainment technique slow cortical potential (SCP) neurofeedback has been shown to be effective in therapy of epilepsy [3]. Currently, newer NFB protocols are being tested for effectiveness in the treatment ofepilepsy including Z-score NFB. Z-score surface and Low Resolution Electrode-magnetic Tomography Analysis (LORETA) 19-electrode (cap system) was recently introduced to the market (Applied Neurosciences, Inc.). This system has the potential for faster results based on the larger number of electrodes applied to treatment [4]. LORETA-based therapy also enables targeting electrical activity in cortex deeper than that monitored by standard EEG-based NFB. In addition, relatively inexpensive computer software and EEG hardware make this procedure potentially cost-effective. Z-score LORETA NFB is one of the newest forms of NFB where usually 19-electrode simultaneous therapy is conducted in order to normalize aberrant EEG with a goal of reaching a Z-score close to 0 [5-7]. LORETA Z-score NFB was recently shown to be an effective therapy in cognitive dysfunction, dementia, depression/anxiety, autistic spectrum disorder, attention deficit disorder, stroke rehabilitation and chronic pain management [8-14]. A preliminary data coming from our office indicate successful primary and secondary generalized seizure response to this type of therapy. In this multiple case study results of ten subsequent seizure patients subjected to Z-score LORETA NFB therapy will be presented.
Read Full Study>>
]]>